Skip to content
Lettings and property management in and around Oxford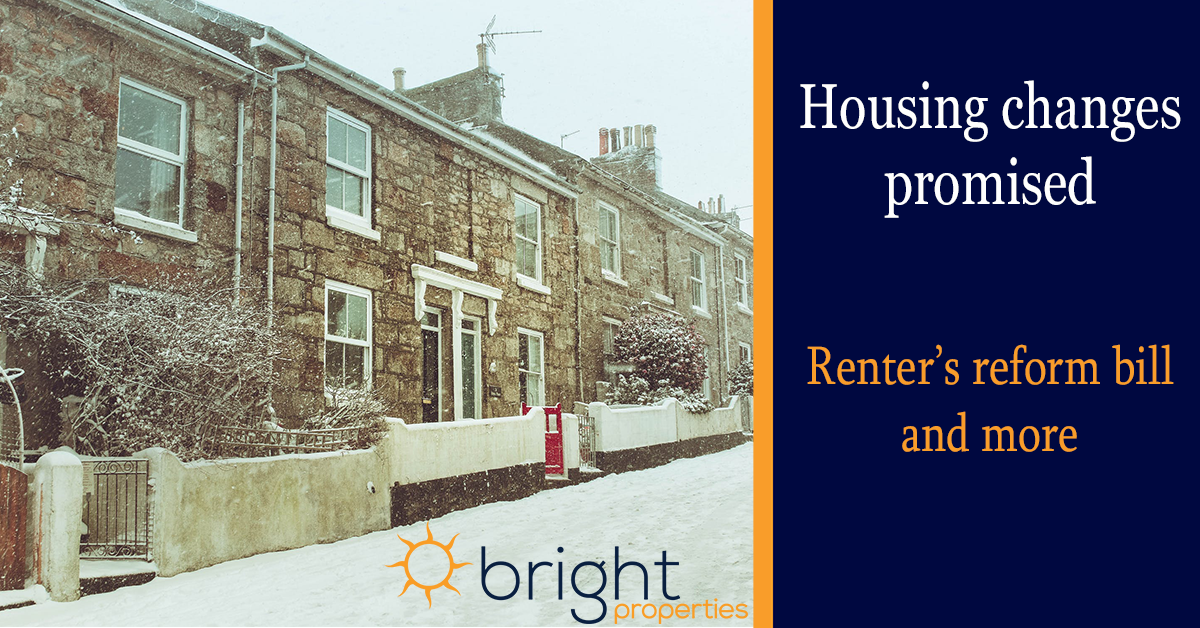 Housing changes promised – Renter's reform bill and more
We reported on the various party manifesto proposals affecting landlords in our briefing "2019 Election – Landlords in the crosshairs". With the Conservatives winning the election the position for landlords in England is clearer. There will be a Renters' Reform Bill introduced in this session of Parliament. The Ministry of Housing describes it thus:
"A revolutionary new deal for renters will restore fairness, honesty and transparency to the heart of the housing market, thanks to new proposals unveiled as part of the Queen's Speech.
Under the plans, millions of renters will benefit from a new lifetime deposit scheme, which will see their hard-earned deposit move with them from property to property – giving tenants more control over their lives and keeping more of their cash in their pocket.
Proposals to abolish no-fault evictions have also been confirmed, meaning landlords will no longer be able to uproot tenants from their homes at short notice and with no good reason – bringing greater security to millions of families who live in rented accommodation.
This will be matched with new powers to strengthen the rights of landlords to gain possession of their property through the courts when they have a clearly valid reason to do so, in order to create a fair market where good and responsible landlords flourish."
So goodbye to Section 21 repossessions, something that has become unreliable as judges react to perceived inequities in its use. The government is to work to improve the court process for landlords to make it quicker and easier for them to get their property back sooner.  It is to be hoped this, and the amended Section 8 possession grounds, will be better respected by the courts.
Mention is also made of improving standards in rented accommodation, driving out rogue landlords and helping to professionalise the sector, with all tenants having a right to redress if their rented properties are not safe and healthy. No mention is made of the proposals in the last Parliament for mandatory five-yearly electrical safety inspections, and the introduction of 3-year tenancies as the norm. The scope of the Bill is wide enough for these still to be included.
Indeed, the scope is also wide enough for further additional measures to be added. We still await the government's conclusions from its consultation "A new deal for renting: resetting the balance of rights and responsibilities between landlords and tenants" that closed in July. Additional measures could come from that. And Parliamentarians from all sides will no doubt make efforts to add to the Bill, which this "One Nation" government just may be susceptible to.
These reforms will become clearer in the New Year, and after the 31 January 2020 deadline to leave the EU.
The rental sector is an ever-changing environment and it can be difficult to keep up. We can help to navigate these issues and deliver a high quality and compliant service. Please feel free to contact us if you think we can assist with the management of your properties.